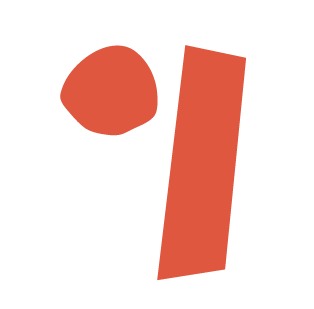 Allied Health Professionals On Holistic Wellbeing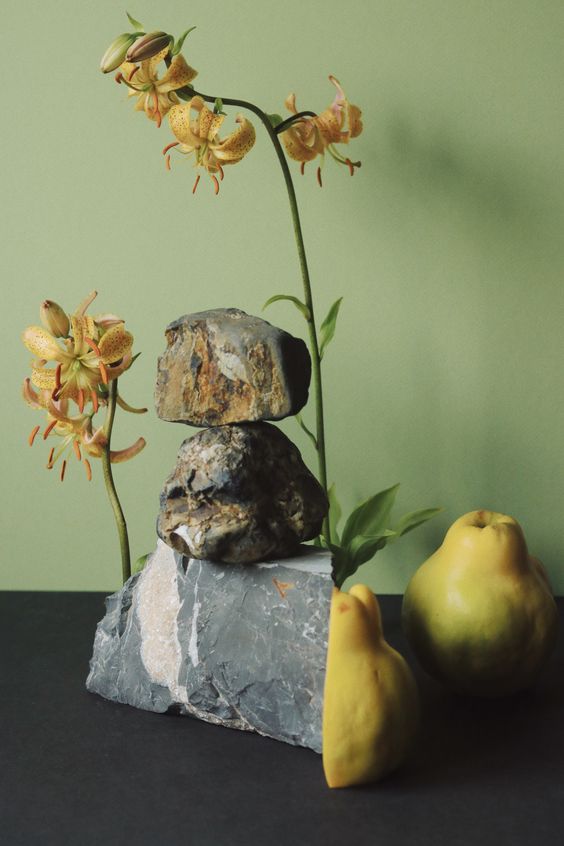 Eating disorders are a common mental illness, affecting up to 1 in 5 individuals at some stage in their life. Over 80% of those with eating disorders struggle with dysfunctional exercise, a term describing unhealthy thoughts and behaviours around exercise, with feelings of shame, guilt and anxiety. This can lead to either avoidance of physical
Read More »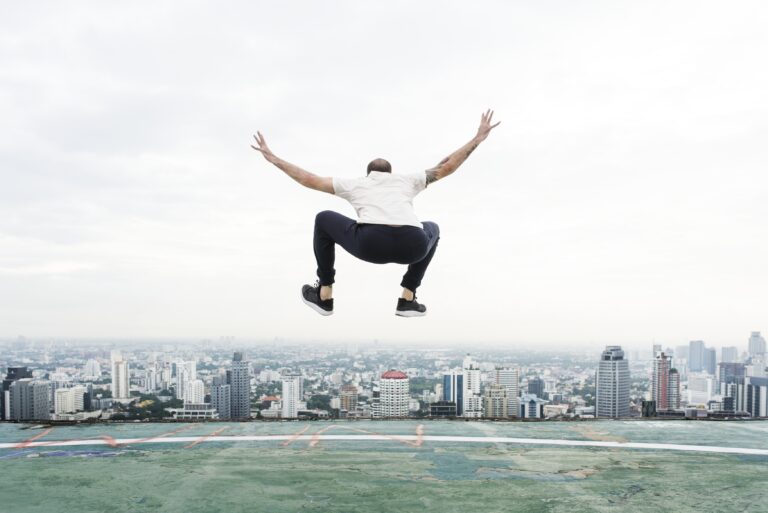 Father's Day is a good reminder for us to talk about men's health and bring awareness to health problems affecting males in our lives. Keeping your health in check helps keep peace of mind for you and all your family. Research has repeatedly shown us that males are more hesitant or reluctant to talk about
Read More »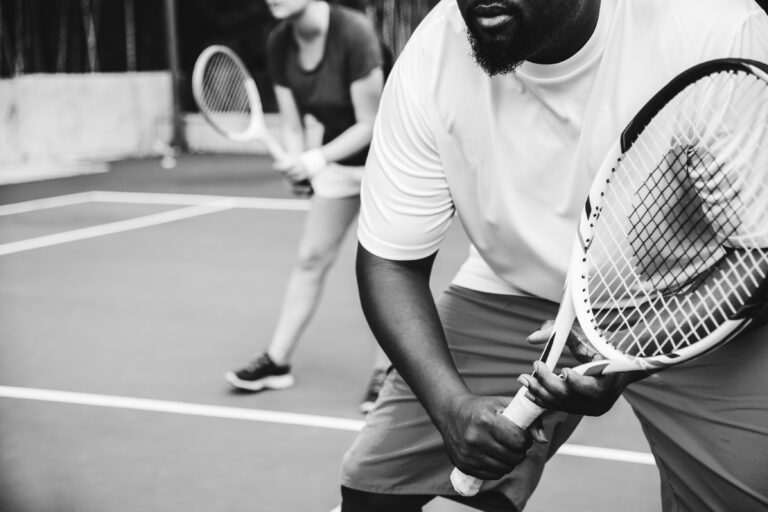 Tennis elbow (TE), lateral elbow tendinopathy or lateral epicondylagia, is an overload injury of the forearm extensor muscles of your wrist, and their tendon attachment into the bone at the elbow. The name of this condition may be misleading, as while it does affect many tennis players – you don't need to be smashing serves
Read More »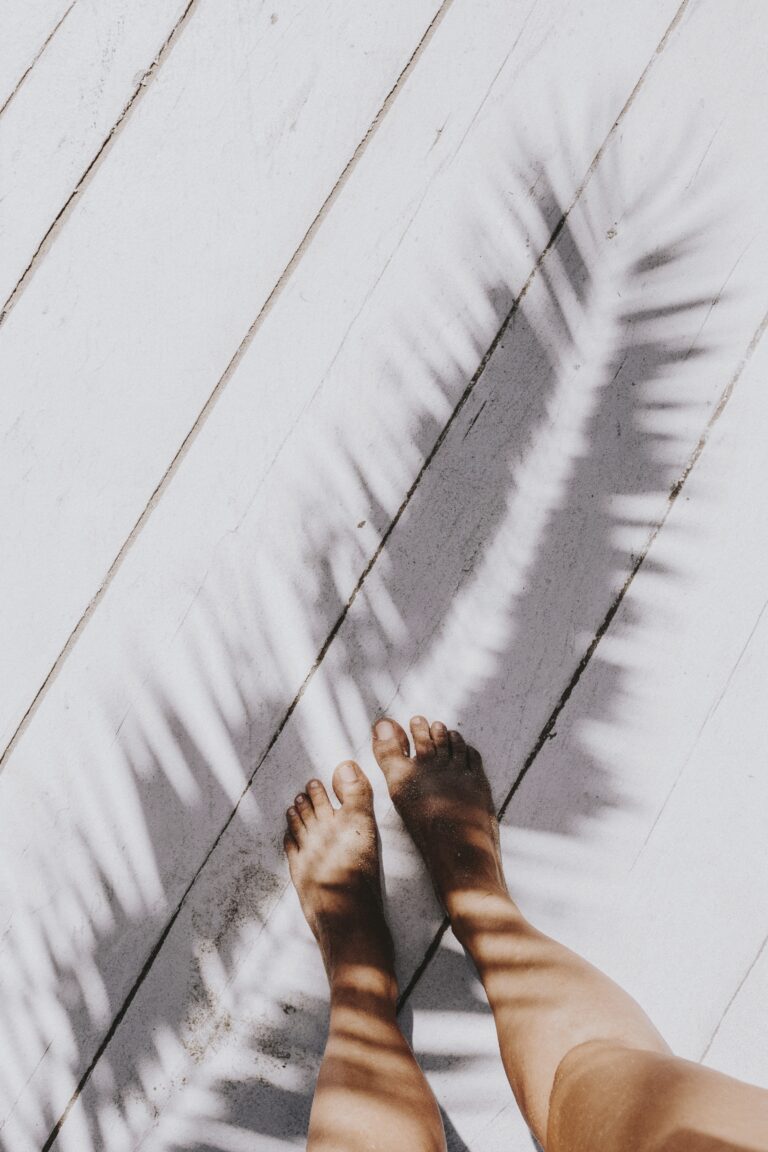 Menopause is the time following our last period or menstural cycle. Menopause comes from the Greek words "menos" (which means month) and "pause" (which means to cease) which form the word "menopause" meaning the "stopping of the monthly" (period). There are three main stages of menopause : perimenopause, menopause and postmenopause. Menopause can happen typically
Read More »
Arthritis is a very common condition which affects 1 in every 6 Australians, which is more than 3.9 million adults and children in Australia. (1,2). Arthritis is an umbrella term for a group of conditions which affect our joints. There are over 100 forms of arthritis with the most common forms being osteoarthritis, rheumatoid arthritis,
Read More »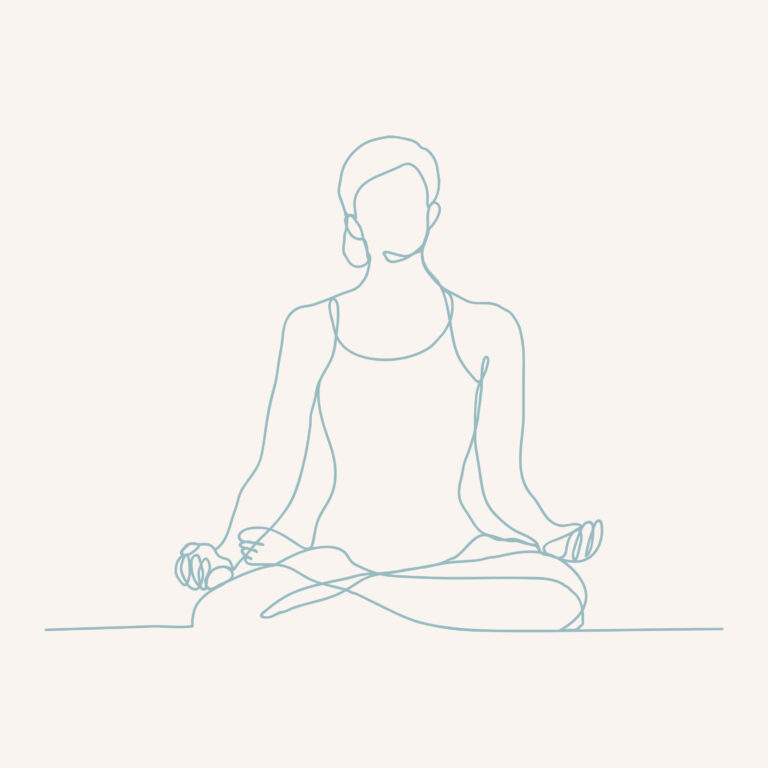 This week (March 1-7) is endometriosis awareness week and March is international endometriosis month. This month is all about raising awareness and supporting those with endometriosis (#EndometriosisAwarenessMonth).  Research estimates that 1 in 10 people with a uterus have endometriosis (Zondervan, 2020). Endometriosis frequently presents with the symptom of pain including painful periods (dysmenorrhoea), pain during
Read More »
Preparing for childbirth is an exciting time for parents, however many go through this time with questions about their pregnant bodies and safe exercise unanswered. At BalanceNorth, our practitioners have undergone extra training in prenatal and postnatal care and are passionate about empowering people to have the most comfortable and smooth pregnancy they can. This
Read More »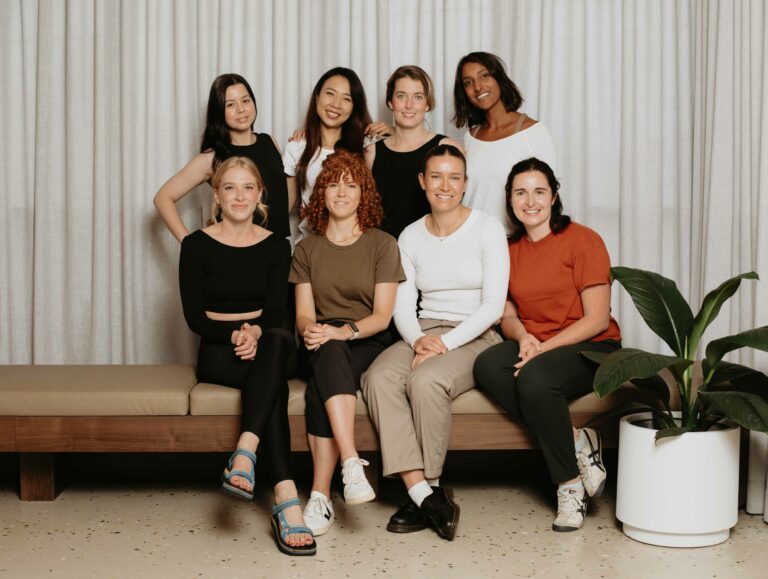 Please arrive approx 5-10 minutes before your booked class to avoid disrupting your fellow members during their session. If you are more than 10 minutes late, you will not be able to join the class. Face masks are mandatory inside the studio. "Masks must be worn at all time except when out of breath or
Read More »
Two-thirds of Australians over the age of 50 have osteoporosis or osteopenia (1). Osteopenia and osteoporosis are conditions where bones become weak and fragile such that a minor bump can cause a broken bone. Research now indicates that from the age of 50, one in three women and one in five men will sustain a
Read More »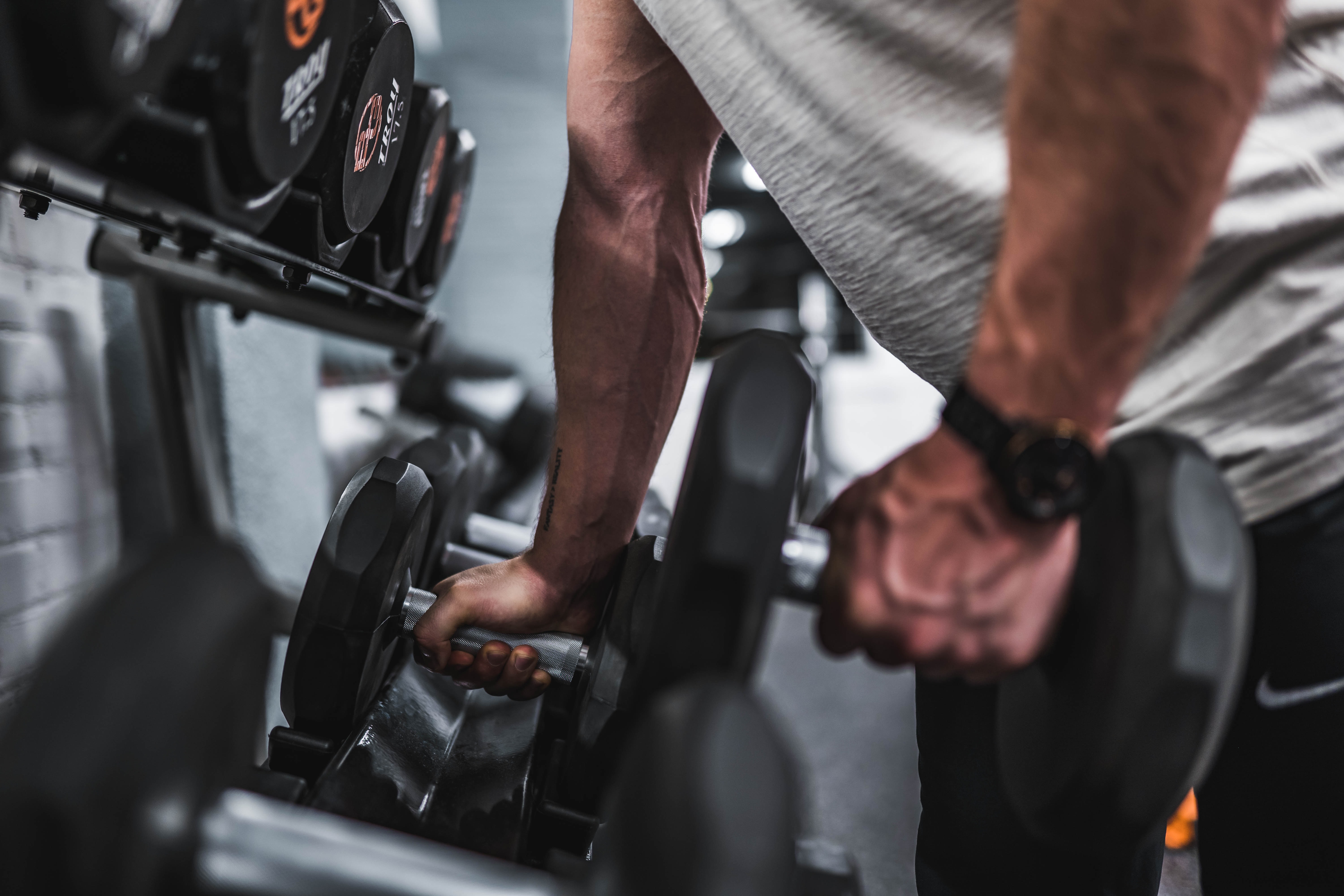 Returning to Exercise Post-Lockdown Olivia Nimmo, Physiotherapist It's official, the doors to gyms and studios have reopened in Melbourne! After 12+ weeks of lockdown, many people will be returning to their previous exercise routines after months of home workouts, or sitting on the couch. Either way, it's exciting getting back to exercise, but we need
Read More »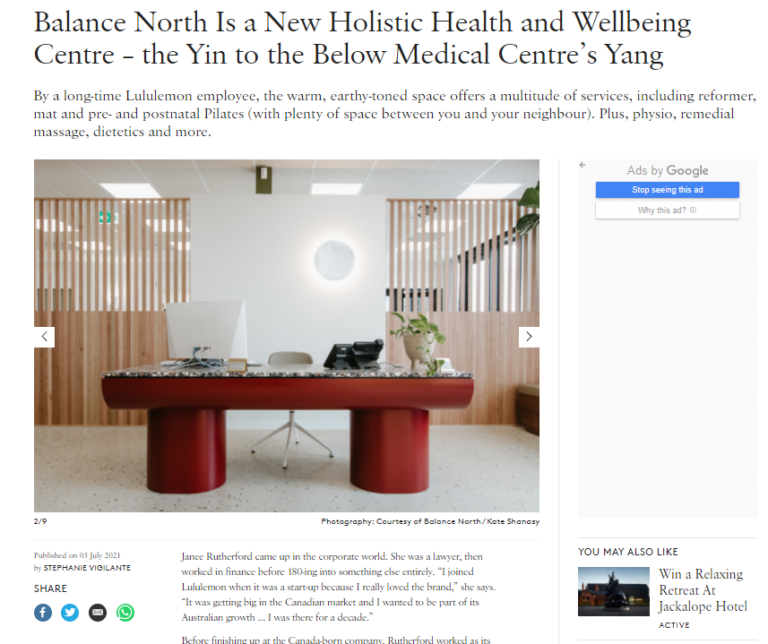 Full article here Balance North Is a New Holistic Health and Wellbeing Centre – the Yin to the Below Medical Centre's Yang Published on 05 July 2021by STEPHANIE VIGILANTE
Read More »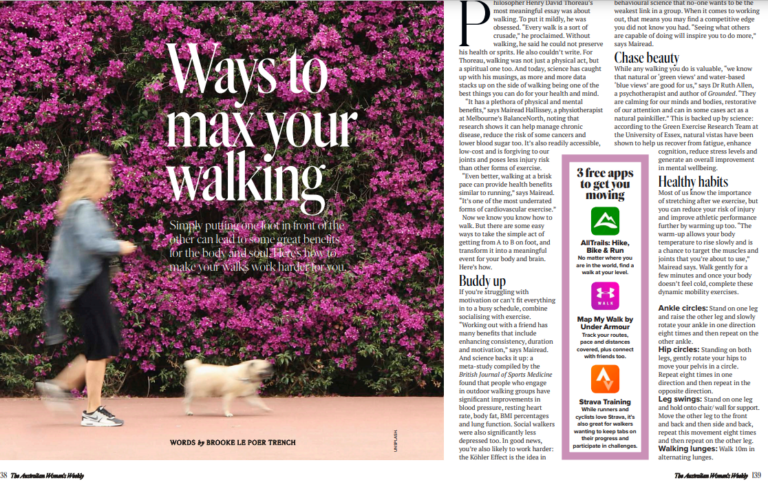 Simply putting one foot in front of the
other can lead to some great benefits
for the body and soul. Here's how to
make your walks work harder for you. Words by Brooke Le Poer Trench for Women's Weekly, featuring our lead physio Mairead Hallissey.
Read More »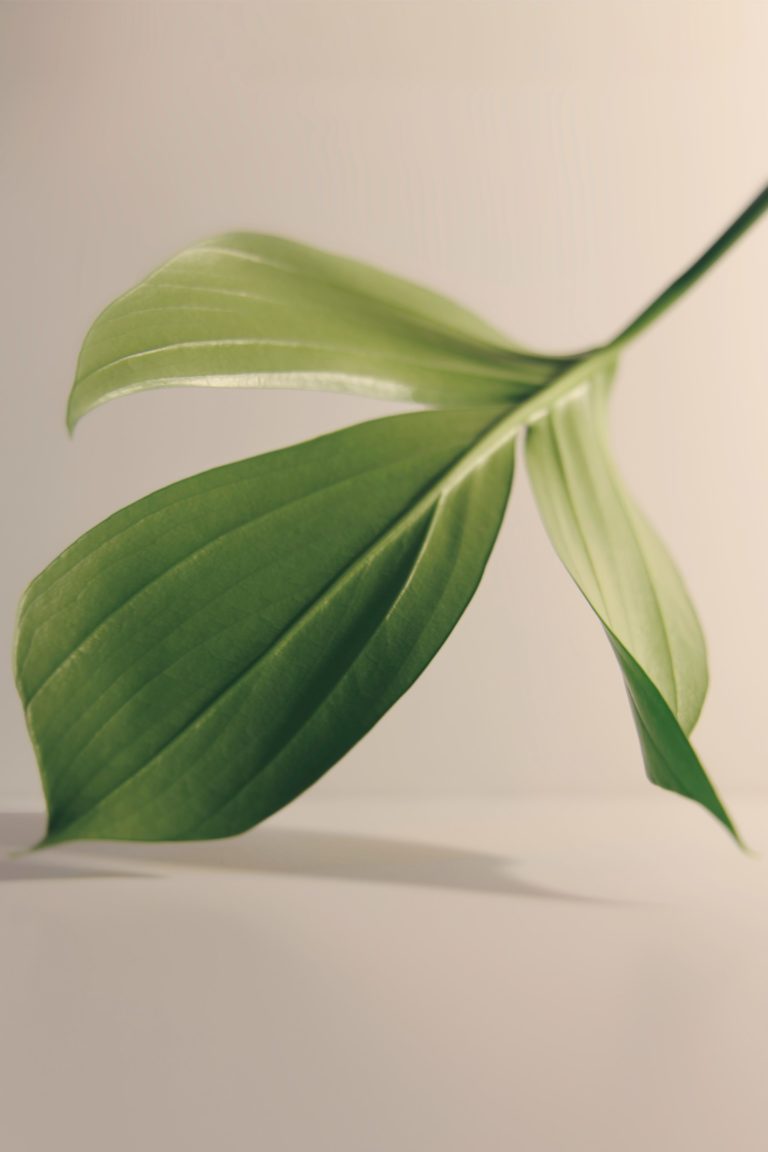 There is a growing body of evidence regarding the importance of sleep for all aspects of health and sleep deprivation is now linked to most chronic conditions, including persistent pain and depression. Sleep has a strong link to improving how our bodies function – I am sure we have all noticed how we can feel
Read More »